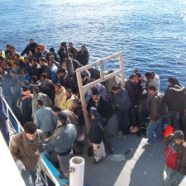 Building a United Humanity
People all over the world seek meaningful answers to war, violence, the hazardous displacement of people, and racial injustice and persecution.
Hundreds of thousands—maybe even millions–want to be free to express the love of their hearts.
Whether these people are in the Middle East, Africa, Asia or even in Turkey, Greece or the United States of America, they are due our deep consideration, love and care.
It is time to be pro-active about honoring human rights for all of humanity.
In the US there is tragic and misguided mistreatment of people of color, and in particular those of African descent. Perhaps it is born of a three thousand year old tradition of hatred of people with dark skin, or maybe it is due to corruption in our political, military or police. Or maybe there is a problem with capitalism that creates the division between the light skinned and the darker races.
If we are willing to really face the problem of racial prejudice, it is a problem of the human heart and people all over the United States are doing something about it because they realize that it is a unique problem in human affairs and it is a problem of the white people who brought them to the North American continent several hundred years ago.
Because racism is a problem of whites, it is up to them to solve the problem, so that America and all its people can move on into a brighter future.
We must realize that there are some white people who are doing something about the problem.
One is Deb Gottesman who with Buzz Mauro are teaching aspiring actors to perform professionally.
As they worked with their students Deb and Buzz found that their students were taking acting classes because they hoped to overcome such problems as fear of speaking in public or they felt they needed to improve their communication and people-oriented abilities.
Gottesman and Mauro's Theater Lab in Washington, D.C. works with at-risk young and old people who are not usually drawn to the arts. Yet they have devised a program that is serving many needs like school expulsion, criminal worries, homelessness, overcoming addiction, illness and problematic living accommodations.
Gottesman says,

"When you become a storyteller of your life, you no longer become [a victim] of circumstance. You're an artist." A student found that when she made a video about her life, she realized she was important."
What a huge and important thing for a person of color to realize! Tragically it was something she had to learn.
Likewise many African-Americans are doing important things to help solve the problem of racial prejudice and racism. We need to look at the relationship of darker and lighter skinned peoples from a planetary perspective and move far beyond the too small personal judgment of people of color.
After all, we are ALL important and with a change of heart we can all be free!
* * *
With thanks from:
David Karas, The Christian Science Monitor, August 3, 2015, p. 44.
The Problems of Humanity, Alice A. Bailey, Lucis Publishing Company, New York, 1964, p. 95.
© 2015 All rights reserved. Rebecca Field