Cooperation between my chickens, aka "my Girls"
We are in process of having our first experience with chickens. My "girls," I call them.
Our little town allows residents to have four hens. No roosters! Ours girls have the run of the whole backyard. With a lawn and foliage and bushes to hide under, they have plenty of space to roam and forage.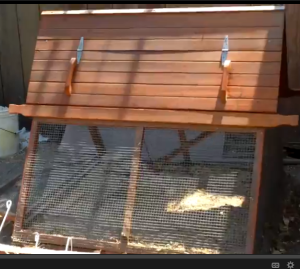 Their little A-frame coop deserves to be in the backyard of an enchanted castle. After all, their small coop, just the right size for four hens, has a ladder, a 'play area' where they also have their meals and their water, and the ladder leads to an elegant second story where they sleep.
There is also a special magical place where they lay eggs.
After all, the hens' little house came here circuitously. It was designed by a young man from Melbourne, Australia who lives in Brooklyn, New York. It was made in China where there is a forest of Douglas fir trees which became part of the coop. Then it went by boat on a Spanish freighter from China to the USA and was delivered by two Ethiopians. Now how is that for involving the whole world in a constructive way!
Our "girls" are over two years old. We had the great joy of watching them grow from newly hatched chicks to adulthood.

Recently the black and white one whose name is Rockie was attacked by a fly who laid eggs on her. It wasn't long before I found hundreds and hundreds of various sized white maggots crawling on her.
I bravely did duty as doctor and surgeon, not knowing the first thing about chickens, their anatomy or really how to take care of a fly who can only be called rude and maliciously forward!
For a few days the situation was quite serious and I had to prepare myself for losing her. Happily she is now, without doubt, getting better every day. However, that left us with a problem….. Rockie stopped laying eggs with the fly strike.
In the meantime the other two "girls," Botchie and Belle, knowing that Rockie has a problem stopped laying eggs too. Since I have really not learned to understand or speak 'chicken,' it is a puzzle why Belle and Botchie aren't laying eggs.
Though I don't know for sure, it seems like they are extending their sympathy to Rockie, standing behind her in solidarity and cooperation by refraining from laying eggs themselves.
After all they are the greatest of friends and not laying eggs is their way of giving respect and gentle kindness to their friend.
I would like to thanks Marc Isaac Potter for his kind visit to my house and for capturing the above two videos about my chicken "girls". I am grateful to him for everything he does for me. Marc is such a generous man!
Talk soon again,
Rebecca
PS: For those interested to learn more about my Chicken "girls" you are kindly invited to chek out my book about them titled: "How The Chickens Made New Friends":
"Oh! my girls…what are you doing?"
With such colorful and expressive illustrations by Chic Ujifusa, Rebecca's tale of how her four chickens made friends (a true story) will not fail to capture your attention!
Illustrations range from the very sweet to the rather laughable ( the chicken in its sand bath to unstress .. looks positively wild! )
Are chickens also birds? Rebecca answers the question in her book.
Get

INSTANT DOWNLOADABLE ACCESS

for only

$3.95 !!
Hurry as this introductory price will only last for a limited period of time….
If you need assistance to purchase the book, simply contact us.
© 2013 Rebecca Field, All Rights Reserved Worldwide.
---